Starring
Joe Hursley
Crista Flanagan
Lisa Cohen
Steve Markle
Broadcast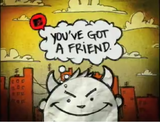 MTV: 10/24/2004-12/12/2004
Packager
Katalyst Films
Tiger Aspect Productions
You've Got a Friend was a short-lived, hidden camera reality comedy series where if contestants pass off an obnoxious fake friend as a real pal for two days without admitting the truth to anyone, they'll win $15,000 in cash.
(Keep in mind that this should not be confused with the classic 1971 James Taylor song of the same name)
Premise
[
]
The show filmed contestants having to tolerate a "friend" for 48 hours, while filmed on hidden camera in their home and different public settings. The "Friend" would be a trained improvisational comedian, who would progressively torment the contestant, their friends and loved ones. The catch was that friends and family of the contestant were unaware of the folie a deux ("Madness of Two"). If he or she is able to endure the embarrassment caused by the irreverent demands of the friend, the contestant would win a cash prize of $15,000.
Link
[
]