Host
Ben Vereen
Featured Singers
Monica Page
Cat Adams
Kenny James
Broadcast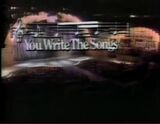 Syndication (Weekly): 9/5/1986 – 2/27/1987 (reruns aired until 9/1987)
Packager
Bob Banner Associates
Distributor
TPE
You Write the Songs was a short-lived, syndicated musical competition show where three aspiring songwriters (either amateur or professional) competed on this weekly series for $100,000.
Format
[
]
Each week three amateur songwriters had their original song performed by the shows regular singers, all of whom were alumni of Star Search, by a panel of five judges, including a singer, a record company executive, a record producer, a disc jockey and one of his listeners. The winning song won $1,000 and returned to compete on the next show against two new songs. The five songs with the highest scores at the end of the season competed in the finals for a grand prize of $100,000.
Among the celebrities who appeared as judges were Smokey Robinson, Whitney Houston, Melissa Manchester, and Neil Sedaka.
Flyer
[
]
Taping Location
[
]
The Aquarius Theater, Hollywood, CA
Trivia
[
]
The songs that competed for the championship were "Am I Losing You" (written by Larry Hart), "Jericho" (written by Susan Pomeranz), "First Time on a Ferris Wheel" (written by Harriet Schock & Mischa Segal), "For So Long" (written by Chris McCollum & Monroe James) and the winner, "Everybody Needs a Dream" (written by Tom Grose).
Each program also included a musical salute and chat with a popular songwriter like: Donna Summer, Stevie Wonder, Kenny Loggins or Burt Bacharach.
Inventor
[
]
Al Masini