Hosts
Stephanie Lydecker & Brian Palermo
Broadcast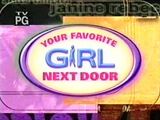 FX: 1999-2000
Packagers
View Studios
Octoberfuchs Productions
"It's time to choose YOUR FAVORITE GIRL NEXT DOOR! Now please welcome your hosts, Stephanie Lydecker and Brian Palermo!"
You Favorite Girl Next Door was a short-lived, weekly game show that solicits videos from five women who believe they represent the "Girl Next Door" and then have the studio audience decide on a weekly favorite.
Gameplay
[
]
This weekly contest shows videos submitted by women who believe that they represent the quintessential "Girl Next Door". Each of the five contestants appear in video segments, including "First Impressions" (a-get-to-know-you-sketch); "At Play" (a mini talent show or sports exhibition) and of course, "Less is More" (the swimsuit competition). All five women are flown in for "on-stage" interviews. The winner and "Favorite Girl Next Door", is selected by a studio audience and is awarded $10,000.
Rating
[
]

Link
[
]